travelling to Posthotel Hans Sacks
cor times
Check in from 4:00 p. m. until 10:00 p. m. , before that and after that with a telephonic arrangement.
You drive about 1. 5 kilometers to downtown, look for the signs "Montabaur" or "town" after having taken the exit of the freeway.
Montabaur is the district town of the Westerwaldes and lies conveniently at the A3, the north-south tangent.

area situation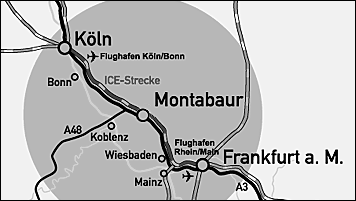 Quelle: www.vg-montabaur.de/
Location of Montabaur
The town lies near at the concentration places in North Rhine-Westphalia in the north over Cologne/Bonn as well as near at the Frankfurt am Main located to the south in Hessen with his international airport.

airports near by
Frankfurt am Main airport: 84 km
Cologne Bonn airport: 86 km
Montabaur offers
a freeway exit of the A3
an intercity express train stop in the intercity express train station Montabaur.
one hour's drive respectively to the towns with an exhibition center Frankfurt, Cologne and approx. 1. 5 hours after Düsseldorf.

Localisation Posthotel
contact